Why should CTOs Choose Flutter for App Development?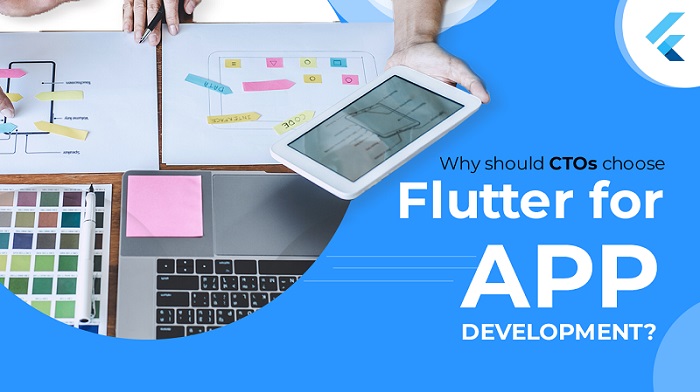 The quality and integrity upheld by businesses in today's time depend majorly on the selection of mobile technologies. The capability to present a rich digital experience is the primary motto carried out by organizations in a well-structured manner. To stay in the competition, the stakes are high, and businesses that fall short at delivering products and services on time, regardless of the selected channel or device, should start seeking better solutions.
The fact that technological advancements have indeed transformed our lives and given us hope for a better tomorrow is genuine. Security mechanisms and associated technologies for an organization are crucial factors that ensure healthy growth in an environment that already possesses roaring competition.
Effectiveness of CTOs:
It is in the hands of the Chief Technical Officers (CTOs) to build an evidence-based organization. The idea is to create an organization that is well supported and driven by key factors such as end-user experience, advanced analytics, data security & management, cyber threat solutions, and IT security. For achieving planned goals, the CTOs must supervise the implementation of all essential measures, thereby ensuring their effectiveness within the target organization.
During such alterations, the company CTOs and CIOs must not forget about the technological needs that might require an immediate revamp shortly. It is their responsibility to prepare and adequately equip all segments for an organization with a technologically sound approach. However, in the initial stages, not the CTOs or CIOs but the IT officials are in charge of figuring out the appropriate technology and the needs of the employees and customers by concentrating on crucial vulnerabilities within the IT teams.
For instance, being an end-user in these modern times requires us to stay connected and accomplish tasks with a finger snap. The real deal prevailing among end-users is their high expectation that has escalated with innovative technology availability. The perfect amalgamation of pioneering tools and machinery for businesses and personal projects has undoubtedly raised the frequency and range of digital transformation worldwide. Therefore, being an excellent CTO does not mean you have to be a capable programmer or decision-maker for codes; it wants you to have a better hold of the business operations. There might be moments when you disagree with the developers if their thoughts don't align well with the existing business model.
A true leader is the one who relates to the daily issues faced by developers & associated teams within an organization. Sacrifices are always part of the plan. It requires a CTO to omit certain technical components to enhance the overall time-to-market for a product or service.
Why CTOs should opt for Flutter?
The core benefit of using Flutter app development is its ability to break-free from cross-platform limitations. For technology experts, the development of a capable cross-platform approach is advantageous since it saves the hassle of creating multiple versions of a similar product. However, the user experience, in reality, falls short as compared to native applications. This is because the UI experience is built in JavaScript. But with Flutter framework, you get to make use of the "code once" approach that permits the creation of a native user experience.
1. Enhanced Productivity
Developer productivity accentuates with the use of Flutter. This benefit can be smartly utilized by startups, which require exponential productivity under a shorter period. To be precise, developers are well equipped to analyze the impact of the alterations they make. Furthermore, there is no need to recompile since you detect the change the moment you save it.
2. State-of-the-art UI
There is an active collaboration running between Google's Material Design and Flutter. This makes it a powerful tool to create state-of-the-art UI designs. The delivery of a crisp and subtle experience similar to native applications is what Flutter framework is good at. Also, it offers customizable widgets dedicated to iOS, adding to the 'glamour' quotient for this tool. You can sit with UX designers to structure a suitable design according to the branding experience that your organization is willing to put in the mobile application.
3. Firebase Offerings
Focusing on startups, the convenience of using Firebase as the backend is pretty impressive. Google is the sole provider of Firebase that offers out-of-the-box support towards real-time databases, cloud storage, hosting, cloud functions, and authentication. In simple words, your organization's infrastructure turns server-less and highly scalable. There is no need to invest time and additional resources to build a backend model. Above all, you also get the opportunity to include an automating tool for the development and release process. It ensures continuous delivery for the development team.
4. Fuchisa's Capability
It has been announced that the new operating system developed by Google called Fuchsia will use Flutter. Details related to this new OS are restricted, but its dependency on Flutter has been openly revealed. This arrangement is expected to merge Android and Chrome, with further hopes attached to Fuchsia's popularity among millions of IoT devices that are planned to be released in the coming years. Despite how Fuchsia will impact the prevailing market, it will surely bring positive changes with Google Flutter combined with it.
Flutter is relatively new, but its operational benefits have created enough sound to make it a global hit. Apart from established organizations, the value proposition of implementing Flutter within a startup is indeed a profitable deal. You get to quickly resolve all challenging aspects such as restricted time and budget for timely releasing the software product. To create a better understanding of performance and functional aspects, install Flutter, and explore its various features. Having first-hand experience with this innovative tool will indeed clarify all your doubts and also many proficient Flutter app developers can help you in this tough ordeal of the app development process.

Conclusion
For CTOs, the prime focus might be productivity, agility, and better customer experience, but they also ought to focus on implementing new technology. This step proves effective in securing a better future for the organization. The use of Flutter is one such smart move towards app development that highlights rational decision-making by CTOs.